Typical concrete scanning services involve on-the-ground scanning of concrete structures such as floors, walls, concrete slabs, and bridge deck, or the roadway/pedestrian walkway, surface of a bridge. But, just like we often do, we got a call that was requesting a job a bit out of the ordinary.
Another Odd Job
The call was regarding a newly built water tower on Cincinnati Dayton Road in Monroe, Ohio. With water towers, like many concrete structures, samples of the concrete are required to be inspected while constructing it to make sure the concrete is up to code. On this particular project, they typically take samples from the concrete trucks as they are dumping it into the concrete pumper. For whatever reason, one load of concrete did not get tested. This, of course, was the concrete that was placed at the very top of the tower.
To meet the inspection requirements, they were required to core drill the concrete on top to make sure it met their specifications. We were called to make sure that no rebar, also known as reinforcing steel, was hit during the core drill sampling. So, using the proper fall safety equipment, Underground Detective Jason was sent to the top of the tower to perform the routine concrete scanning.
How do we do our Concrete Scanning Services?
The Underground Detective presents GPR scans of concrete structures clearly for real-time and in-the-box 3D data acquisition, display, and analysis using the MALÅ GPR CX System, the most flexible and comprehensive concrete scanning system on the market.
With the unstoppable team of The Underground Detective and MALÅ, you will finally be able to avoid wasted time and money by scanning directly into the concrete before you saw or core drill, proactively avoiding service shutoffs and accidentally cut conduits keeping you from getting work done.
It's time to stop losing time and money with accidents that can be avoided. The Underground Detective wants to detect your utilities before your shovels do.
Summary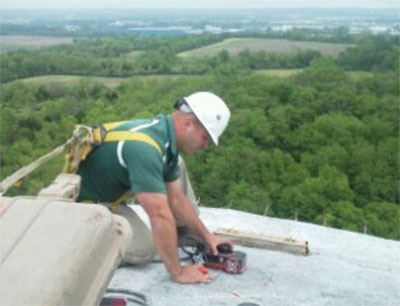 Article Name
Concrete Scanning at the Top of a Water Tower
Description
Using the proper fall safety equipment, Underground Detective Jason was sent to the top of the water tower to perform routine concrete scanning services.
Author
https://undergrounddetective.com/wp-content/uploads/2015/07/Concrete-Scanning-on-a-Water-Tower.jpg
306
400
Rob Harris
https://undergrounddetective.com/wp-content/uploads/2015/11/logo.png
Rob Harris
2015-07-23 14:16:58
2018-10-24 15:24:38
Concrete Scanning at the Top of a Water Tower