Ground Fault Detection:
A ground fault occurs when the electric charge from your system goes into the earth rather than flowing through your system as it is supposed to. If you have buried cable in your electric system, there's always a chance of a ground fault occurring. But what do you do if you have a cable that fails? You call the ground fault detection experts at The Underground Detective.
If you have a buried cable that has failed, don't dig until you know exactly where it is. You can cause yourself hours of expensive and frustrating issues if you dig without locating the fault.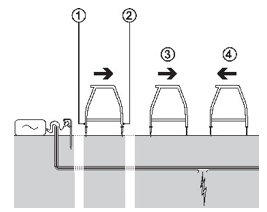 How Does Ground Fault Detection Work?
The Underground Detective can save you time and money by pinpointing exactly where your wire has failed. Our highly-trained technicians use A-frame fault finders to locate the location that needs repairs. The A-frame fault finder works by doing the following:
Applying an 8K frequency to the power or telecom cable.
As a fault is approached the Fault-Find direction arrow will lock on to the fault signal and point forward and the dB readings will increase. When the fault is passed the arrow will point back towards the transmitter. We take readings at smaller survey intervals to determine the exact point of the fault.
Preparing the line
Locate the entire path of the power or telecom line to know the exact location
Remove all earth bonds from the line to be traced during the fault-finding survey
Possible Limitations
If the cable runs under a road, use the equipment as normal on the road surface as it can sometimes detect signals when working on blacktop, concrete, or paved surfaces. If necessary, try wetting the road surface. Pouring a very small amount of water around the bottom of the A-frame spikes before each Fault-Find will generally ensure a good ground connection.
If the cable runs under a paved surface, the fault can often be pinpointed by fault finding in the grass/soil adjacent to the paving. Reduce the distance between placing the A-frame spikes in the ground to allow for the increased distance to the actual fault position.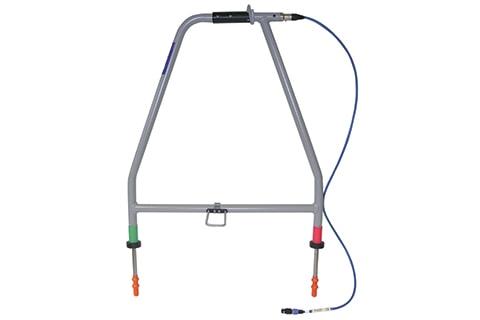 The A-frame fault finder permits our expert technicians to not only establish the location of the fault but to also indicate its severity. This allows us to direct you towards the fault that is causing the most issues in your system. By the time we're done using the fault locator, you will know the exact place that you need to repair.
Questions About Ground Fault Detection?
If you have any questions about our ground fault detection services (whether they're specific or general), please don't hesitate to contact us. We are happy to explain any of the services we provide to you.